Rimini has always been linked to the sea and beach but its origins are much more varied and rich. A vacation at Rimini could be the perfect opportunity to discover the lesser known aspects of this city which is most famous for being among the main tourist beach locations in Italy and Europe.

The origins of Rimini are lost in the beginnings of time – the first settlements date back as far as the Lower Paleolithic epoch roughly 800,00 years ago. But modern Rimini can also be linked to the Roman colony of Ariminum, in 268 BC.

Walking through the streets of Rimini's historic center, one still stumbles upon traces of the ancient Roman city, like the impressive Tiberius Bridge on the Marecchia river with its 1,000 year old arches which have survived earthquakes, floods, wars, plundering and even an attempt by the Nazi armies to blow it up.

Other important landmarks include the Arch of Augustus (the most ancient Roman arch in existence at 2,050 years old), the theatre, the amphitheatre and last but not least, the Surgeon's House, a house from the 3rd century which belonged to a rich Roman surgeon. Its most valued aspect are the many mosaics found inside and the large numbers of surgical instruments which today can be admired in the Archaeological Museum of Rimini.

Jumping ahead in time, to the 12th century, Rimini became a medieval municipality and with the increase in religious orders based there, stepped up the construction of religious buildings and churches.
In 1295, Rimini became a Signoria and widened its territories to the inland areas until it surpassed the Romagna borders.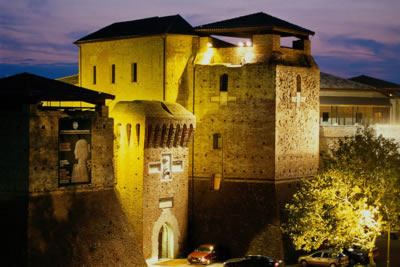 But the true glory days of the city were experienced during the Signoria of Sigismondo Pandolfo Malatesta, who transformed Rimini into a hive of culture and art. We can also thank him for the construction of Castel Sismondo and of the Malatestiano Temple, desgined by Leon Battista Alberti, both of which are still intact and can be visited today.

This brings us to the modern day when history becomes the present. But we must not forget the splendor of the Belle Époque and the momentum this provided for tourism and social activities of Rimini which was destined to become a beach metropolis par excellence thanks to the '60s and '70s.

For the devoted returning visitors or those who have chosen a vacation in Rimini for the first time, this city is able to show its many faces – some of which are quite unexpected! Rimini perfectly combines the beauty of an ancient city with the wealth of a modern tourist destination. Its ability to take on modern fashions while never neglecting its roots allow this city to amaze and charm its guests.