The Rimini beach is one of the most famous along the Adriatic Riviera. Fun, relaxation and every kind of activity you can imagine are waiting for you on the seashore for a truly unique summer.
With its prized location just moments from the beach, the 4 star National Hotel in the heart of Rimini in Marina Centro, guarantees an unforgettable vacation among the waves and fun of Rimini.
A stroll along our beach front will certainly tempt you onto the beach where you can enjoy long lazy days of relaxation at our lido on the beach, Beach 33, making the most of all our services.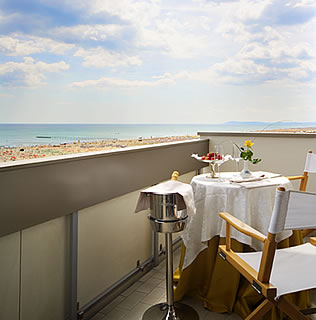 Our 4 star hotel in Rimini complements the blue sea and golden beach of the Riviera with a complete and convenient beach service, in collaboration with Beach 33, for your moments of relaxation and fun during your vacation:
- Free beach towels
- Free private "Club la Spiaggia" cabins
- Fenced-in playground
- Special offers for hiring sun loungers and beach umbrellas
- Swimming lessons
- Jet-ski hire
- Sail boat and pedalo hire
- Reservations for deep sea tours on the "Ninabella" motor yacht.

And if you are traveling with your dog, don't worry! At the Rimini*, we have even thought of your four-legged friend!
In fact, Beach 33, is happy to accommodate dogs on the beach as long as a few small rules are followed in order to guarantee a relaxing vacation.
Your pet can enjoy hours of fun with you in a reserved area for animals where he can make the most of the cool and calm Rimini beach. The only guideline is that you must always keep your dog on a leash and remember that animals are not allowed in the water. It is also important that they have been vaccinated so you will have to show a vaccine certificate upon entrance to the beach.

You will be given a copy of the rules and behavior regulations at the reception of our family and pet friendly hotel which includes guidelines allowing you to enjoy an unforgettable vacation together.
For our and your relaxation, and to guarantee the maximum well-being for your pets, the Hotel National also provides a vet who is always available for every need of your four-legged friend.